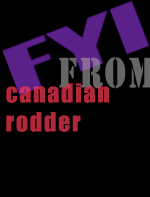 Unless otherwise noted, all images, graphics and text is
Copyright © 2000-2002
canadianrodder.com and eFX Design

Bonneville or.... (there is no or)
How often does a Canadian Bonneville runner come along? Not often. With this in mind, check out "North of 49" - a B/STR class salt flat race car being prepared by the members of the Foothills Street Rod Association. Take the time to check out their build photos and shots from the recent Calgary World of Wheels here:
Best of luck guys. We'll check in with you again.